I'm not usually one to talk about karma. For the most part, I think life just kind of happens. After all, my beloved Patriots are still the best team in the league. Sure, the Colts are dead after fabricating Deflategate, but the Ravens are somehow still relevant. Literally nothing bad ever happened to Peyton Manning after taking HGH and putting his genitals on a poor trainer's forehead. Aaron Rodgers is generally viewed as a good guy (as long as you're not his family), but he's gotten seriously hurt multiple times. The universe just kind of does what it does, and I'm not sure how much control we have over it. But, the Redskins definitely had last night coming. You're going to reject Color Rush? Are you kidding me? You have these beautiful golden threads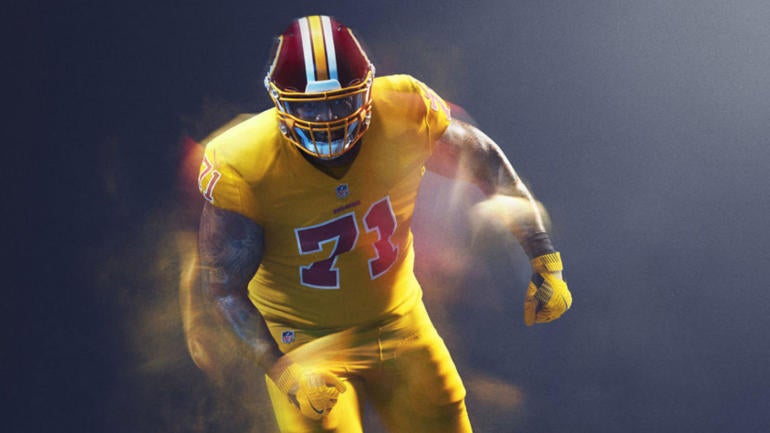 and you say thanks but no thanks? Listen, I'm on the record as pro-maroon/burgundy, but you can't turn down Color Rush and expect not to feel some consequences. I'm glad they got blown out by a team that looked like it was dead in the water during the entirety of the Zeke suspension. Hope you guys are happy with yourselves. Anyway, decent group of games this week, but I'm sure it'll just be a lot of blowouts, because thats what always happens.
San Francisco 49ers at Chicago Bears (-3)
Jimmy G, baby! Bears are dead, 49ers are about to catch fire behind the second best quarterback in AFC East history, this one is as cut and dry as it gets.
Pick: 49ers +3
Tampa Bay Bucs at Green Bay Packers (-2)
Can we just cancel the rest of the Packers' schedule? And the Bucs', for that matter? I think it would be beneficial to all parties involved. No? Alright, I guess we'll just go ahead and play this game. Whatever. We're getting pretty close to "it's really cold down there on the field, let's cut to Pam Oliver with a thermometer" season for northern teams. Gonna be great.
Pick: Packers -2
Denver Broncos (-1.5) at Miami Dolphins
Dear god, why?
Pick: Dolphins +1.5
Detroit Lions at Baltimore Ravens (-2.5)
Well, it's just about that time. Ravens have looked like absolute trash offensively all year and have ridden their defense to six wins, which means somehow they're about to finish the year at least 4-1 and make it to the AFC Championship Game. They're the only AFC team that could possibly challenge the Pats, mostly because they always challenge the Pats. The Lions franchise just feels like it's in total no-man's-land right now. Might be time to blow it up.
Pick: Ravens -2.5
Minnesotta Vikings at Atlanta Falcons (-3)
I'm officially suspending my "never bet on the Falcons" stance, because, above all else, I'm no fool. The Falcons remembered they had one of the greatest offenses of all time last year, and I think they're probably going to spend the rest of the regular season smashing teams. Vikings are good, but they're just playing the Falcons at the wrong time. Unless it's a close game in the fourth, then the Falcons will revert back to the Falcons we all know and love.
Pick: Falcons -3
Indianapolis Colts at Jacksonville Jaguars (-9.5)
I legitimately feel bad for what's about to happen to Jacoby Brissett. He doesn't deserve any of it.
Pick: Jags -9.5
Kansas City Chiefs (-3.5) at New York Jets
If I've learned anything this season, it's that you don't just waltz into MetLife Stadium when everyone's wearing green and come out unscathed. Especially if you legitimately forgot how to play football. Chiefs suck so bad, but hey, they beat the Pats in week one! That's all that matters, right?
Pick: Jets +3.5
Houston Texans at Tennessee Titans (-7)
Every year there's a team that everyone knows sucks but winds up winning 10+ games and getting into the playoffs. With the Bengals vacating the crown and finally coming back to Earth, the Titans are clearly this year's version. They stink. They stink out loud. But every team they face is somehow worse. Texans died a few weeks ago, but they still have enough to keep it close before losing on a last second field goal.
Pick: Texans +7
New England Patriots (-9) at Buffalo Bills
Pats. Next.
Pick: Pats -9
Cleveland Browns at Los Angeles Chargers (-14)
My favorite thing about every Browns game is that, at some point during the broadcast, the announce team invariably mentions how the Browns could have drafted every good player on the other team but failed to do so, pretty much regardless of who the Browns actually took. "Did you know the Browns could have had Shawne Merriman but took Braylon Edwards instead? What idiots!" "I heard the Browns could have taken Melvin Ingram, but took Trent Richardson instead. How foolish can you get?" "I saw that the Browns could have drafted LSU receiver Craig Davis but took Joe Thomas. Typical Browns!" Until the Browns win the Super Bowl (try saying that with a straight face), every decision they make will just be mocked no matter what. Poor, poor Browns. At least Josh Gordon is back for now.
Pick: Chargers -14
New York Giants at Oakland Raiders (-9)
RIP Eli Manning. Gone but not forgotten. While trying to wrap my head around the timing and reasons for this move, I realized that Ben McAdoo, one of the worst coaches I've ever seen, actually thinks the team has a better chance to win with Geno Smith at QB. They're still trying to win! The NFL is so backwards. It would be in the Giants' best interest to lose the rest of their games, fire everyone, and move forward. Instead, if the unthinkable happens and they catch lightning in a bottle with Geno or Davis Webb and win three or four more games, everyone gets excited, says "well, if everyone didn't get hurt and we had Geno the whole time, who knows where we'd be," then McAdoo comes back, they don't draft a QB, and we do the same thing next year. So stupid. Someone give me a GM job so I can run circles around the rest of the league. Side note on Geno- the only NFL game I've actually been to was a Jets-Pats game on a Thursday night in the pouring rain. It was the worst game of all time. Literally the only memorable thing that happened was an Aaron Dobson TD on a fake field goal. It was Geno's second career game, and, as a huge Geno guy when he was at West Virginia, a couple throws he made in the first half made my nether regions tingle with delight. But then he threw picks on three straight passes. Pretty much his career in a nutshell.
Pick: Raiders -9
Carolina Panthers at New Orleans Saints (-4.5)
Marshon Lattimore is back, which means the Saints are back. Feel like we're due for another Cam Newton stinker, so I'm expecting a Saints blowout.
Pick: Saints -4.5
Los Angeles Rams (-7) at Arizona Cardinals
Are we in the middle of a Blaine Gabbert career renaissance? I'm all in. I'm anticipating some big numbers out of Yo Gabba Gabbert this week. Think 24-38 for 258, 2 tds, and a pick. About to be the most random hot streak since the month of time where Ersan Ilyasova was the best player in the NBA. #GabbertforMVP.
Pick: Rams -7
Philadelphia Eagles (-6) at Seattle Seahawks
I'm always wary when it comes to jumping on or off a team's bandwagon when it's at its peak. Jump off too soon and you're just a hater who gets proved wrong. Jump on too late and you're a frontrunner or mush. Right now, the Eagles' bandwagon is a runaway freight train that can't be slowed down by anything, most of all realistic expectations. Luckily for me, though, I was never on the Eagles' bandwagon, so predicting their demise is pretty easy for me. I don't like road favorites going to Seattle at night. I know the Seahawks stink and everyone's hurt, but doesn't this just kind of feel like the week it all starts to unravel a little bit for the Eagles? I don't know. Maybe I'm just a hater who's going to be proved wrong, but I doubt it.
Pick: Seahawks +6
Pittsburgh Steelers (-6) at Cincinnati Bengals
The Steelers are to the Bengals what the Patriots are to the Steelers. In other words, the Bengals have a 0.0% chance of winning this game.
Pick: Steelers -6
Bonus College Picks
Memphis at UCF -7
TCU +7.5 vs. Oklahoma
Georgia vs Auburn -3
Ohio State vs Wisconsin +6
Miami -10 vs Clemson