Man, what a great Thursday night game between two exciting, innovative teams who are surely to be right in the mix at the end of the season. Can't believe what a privilege it is to watch two of the greatest offensive minds in the game go head-to-head in a high-stakes chess match. I'll remember this one for a long time.
Hah! You thought I would devote precious hours of my life to watching Broncos vs. the Arizona Professional Football Team?
On to the real games.
Tennessee Titans vs Los Angeles Chargers (-7)
You know what I hate? "Werewolves of London" by Warren Zevon. Might be the worst song ever recorded. At the very least the most annoying. Song's a piece of shit. I'm glad Kid Rock co-opted it for "All Summer Long." You know what else I hate? Duran Duran. Can't explain why, but if Van Halen didn't exist they'd be my least favorite band of all time. Other than that, love England. Got yelled at by a Stonehenge staffer when I went. I was sitting on one of the stones and the guy told me to get off to preserve the ancient monument or something. I know it was just because he didn't want me absorbing any of the mystic power that courses through the entire area. Too bad for him enough energy had already entered my bloodstream to fundamentally change me and give me supernatural abilities, which I use to correctly pick NFL games, like this one. This game's in London, if you couldn't tell, and it's the first 9:30am game of the year. Couldn't think of anything else I'd rather wake up to than Marcus Mariota going 9/15 for 108 yards and a pick. Gonna be electric. Still, Chargers stink going East (in my mind, at least), and Wembley is the Easternmost NFL stadium.
Pick: Titans
Buffalo Bills at Indianapolis Colts (-7.5)
Colts shouldn't be favored by most high school teams by more than 4 points, so I have no idea what the hell this line is. I know it's the Derek Anderson effect, but still. Bills D is somehow good enough to keep them from getting blown out by fellow bad teams. No game had a high range of watchability: if Peterman was starting, it would have been must watch. Since it's Anderson? No thanks.
Pick: Bills
New England Patriots (-3) at Chicago Bears
I will pay Khalil Mack a substantial amount of money to sit this game out. Not that I'm worried he'll ruin the Pats chances of winning, or anything. I just don't want him anywhere near my 41-year-old QB. Pats by a million either way since the Bears D is highly overrated.
Pick: Pats
Carolina Panthers at Philadelphia Eagles (-5)
LOVE the Panthers. Love 'em. Eagles are coming off a big Thursday win and have a big game against the Jags in London next week. I know they've overlooked the Panthers because they've convinced themselves they're back. Unfortunately for them, the rest of the league is not the NFC East. Panthers just shove the ball down your throat and grind out wins. When facing this same strategy earlier in the year, the Titans beat them in OT. The Panthers are better than the Titans.
Pick: Panthers
Detroit Lions (-3) at Miami Dolphins
I don't like the Lions being favored in Miami. Just doesn't sit right with me. Detroit and South Beach are as polar as polar opposites can get. Either team is a major fish out of water (pun NOT intended) in the other team's house. The Lions are used to cold, snow, thick, square pizza, hot dogs with chili and mustard, and automobile factories. You put them in the middle of the 305 and expect them to win by more than 3? The culture shock alone will keep them under 21 points. The second Matt Stafford hears a note of Latin music and his hips start involuntarily moving he won't know what to do. This has Dolphins blowout written all over it.
Pick: Dolphins
Minnesota Vikings (-3.5) at New York Jets
I'm officially on record saying the Vikings are Back. They just needed to get used to a new QB, sometimes it takes a few weeks. The defense is starting to play like we thought they would, but their run defense has been there all year. The Jets are only good when they can run the ball at will. Not that hard to figure out.
Pick: Vikings
Cleveland Browns at Tampa Bay Bucs (-3.5)
All I know about this game is that there's going to be 10,000 turnovers, most of them very funny. Because Jameis throws the funniest picks this side of Buffalo and Baker sneaky just throws the ball straight to the other team a lot. Still, the Bucs play defense the same way I go to the gym: we just don't. The Browns of the past would roll over and die after getting dominated last week. But these are the New Browns, who keep fighting no matter what. These Browns have the ball in the red zone with 30 seconds left, down 27-23. They still lose, though.
Pick: Bucs
Houston Texans at Jacksonville Jaguars (-5)
I grow tired of the Jags. They only play well when they feel the other team is worthy of their effort, and, apparently, the Pats are they only team they've given that distinction. Now, they're not the first team to be completely obsessed with beating the Pats (they may be the last, though. Sigh), but they way they just dismiss every other team in the league and don't bother showing up 90% of the time annoys me. I can do that. I've been there for five titles. I've won. The Jags have made two AFC championship games in their history, winning neither, and are acting like million time champs. Don't become the Wizards of the NFL, guys. I can already tell the team hates each other. Calais Campbell seemingly spends half of every game trying to assuage the various personalities who are upset that someone else on the team isn't as perfect as they are. Meanwhile, the Texans are kinda, sorta good, now. If they had a competent coach, they might even be actually good. I think the Texans win this handily as the Jags predictable spiral continues.
Pick: Texans
New Orleans Saints at Baltimore Ravens (-2.5)
I think this is the first Ravens game I'm legitimately excited for since the last time they played the Pats in the playoffs. Kind of crazy stat: this is the 23rd season in Ravens history. They've finished outside the top ten in total defense seven times, and three of those times were the team's first three seasons. Thus far, they rank first in total defense and first in points allowed. This would also be the highest they've ranked in total yards since Vinny Testaverde was under center. What I'm saying is that the Ravens are the only AFC team I'm scared of in the playoffs and that I wouldn't be very surprised if they won the Super Bowl. That being said, they can't enter the playoffs with too many wins. Coming off a shutout victory, this is exactly the kind of game where Flacco looks like the worst person to ever attempt a forward pass and everything goes wrong. Got to throw people off the scent, a little.
Pick: Saints
Dallas Cowboys at Washington Redskins (-2)
I bet you're thinking I'm gonna have another snarky comment about the NFL forcing boring-ass NFC East matchups down our throats in national 4:25/prime time spots. I'm offended you would think so low of me. Everyone knows how much I love watching Dak Prescott and Alex Smith!
(The NFL has my family. They've threatened to kill them if I say how much I hate NFC East games one more time. I know this is going to be the worst game of all time, but, please, think of my family! You have to say how much you love NFC East division games being shown on national TV!)
Pick: Cowboys
Los Angeles Rams (-10) at San Francisco 49ers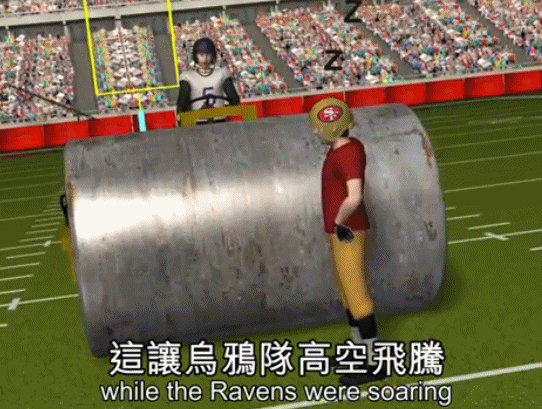 Pick: Rams
Cincinnati Bengals at Kansas City Chiefs (-6)
The formula is pretty simple, here: Bengals at night vs. the best offense in the league looking to come back with a vengeance after their first loss. Chiefs might have 42 at the half.
Pick: Chiefs
New York Giants at Atlanta Falcons (-5)
I've got a feeling this is the week Jason Witten and Booger McFarland finally have a fist fight in the post-game meeting. The animosity is too intense not to boil over at some point. Also, I usually hate "this-announcer-sucks" guy because almost every announcer is perfectly fine and getting upset at the announcer is just a defense mechanism used to deny the fact that the team you root for is actually terrible and you're a moron for choosing them, but Jason Witten STINKS. Everything he says is the most obvious, rote cliche in history, and he has the camera presence of an empty chair. Jason Witten grade: D-. Giants in prime time grade: D-. Falcons in prime time grade: C-. Falcons would have a higher grade, but I just keep thinking of when they were on prime time and blew a 25 point third quarter lead against the Patriots. I think it was in the Super Bowl, too.
Pick: Falcons